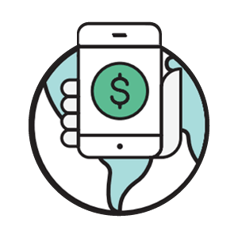 UnionPay is China's sole bankcard association and the largest issuer of payment cards in the world. They have issued more than 9 billion debit and credit cards, a greater number than Visa and Mastercard combined. UnionPay allows customers from 179 countries to pay with a trusted and familiar card brand, no matter where they are. Signing up for UnionPay SecurePlus through MerchantE will offer many advantages to your business.
Here are just a few ways UnionPay SecurePlus powered by Payscout will help your business.
Fast
Receiving payments in two days instead of five is a game-changer. Faster receipt of funds through accounts receivable will help both large and small businesses manage cash flows in real-time and avoid expensive short-term financing. There's no reason for a long wait before completing a critical financial transaction.
Profitable
Signing up for UnionPay SecurePlus can dramatically increase the number of transactions businesses complete. In one case study shared by UnionPay, an online travel agent logged more than 10 times the completed transactions – from $40,000 in volume across 140 transactions daily up to $500,000 and 1,600 transactions daily – in just four months.
Seamless
UnionPay SecurePlus is a low friction two-factor authenticator. It clears obstacles to approvals with a linear purchase process. No redirects or additional forms! Using UnionPay SecurePlus has been shown to increase approval rates from 30% to 90% while improving security and reducing fraud.
UnionPay SecurePlus enables both debit and credit payment flows entirely on the MerchantE payment page. Here's how it works:



MerchantE is the exclusive provider of UnionPay Secure Plus powered by Payscout for the United States. Find out how our fast service and seamless integration can increase your profits today.