Electronic invoices that accelerate your receivables.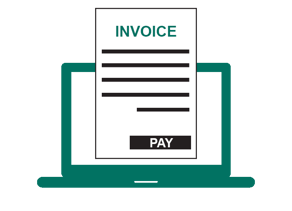 Remove the hassle of spending countless hours on manual entries and paper checks by using MerchantE Invoice, our all-new electronic invoicing solution. Not only will it help you get paid faster, but you'll also be able to simplify the billing process, reduce costs, and make it easier for your customers to pay.
MerchantE Invoice can help you:
Create and send e-invoices and quotes via email or text
Set up automated notifications for due dates, past due and payment acknowledgment
Store payment data securely for convenient future payments and for use in options such as auto-payment
Give customers a range of options so they can use their preferred payment method, including ACH and all major credit and debit cards including UnionPay SecurePlus
View aging status reports and performance dashboard.
Need more information?
Get more details about MerchantE Invoice Link with this data sheet.
Uncover the 7 reasons why you should add e-invoicing to your payments toolbox by checking out this blog.