A painless way to cut payment processing costs.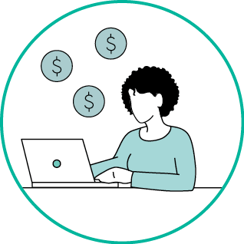 With interchange rates making up nearly 90% of the processing cost of every transaction, there's a huge savings opportunity for businesses.
Although supplying more details about transactions helps lower interchange fees, the challenge is that providing those details can be confusing and time-consuming.
That's why we created the Interchange Optimization Program to help you automate the process and ensure you don't pay more interchange than you should.
The benefits of our program include:
Savings up to 4% for Level II data and 15% for Level III
Reduced risk
Lower interchange fees
Increased intel about transactions
For only $10.00 per month, we've made it easier for you to provide the required Level III processing data to Visa and Mastercard for eligible transactions.
Here's how it works: Once you enroll, you will login to the MerchantE Reporting Portal to enter default values for all the fields required by Visa and Mastercard. Any time you submit an eligible transaction with details missing, we will include the default values. Each time the requirements are met, we will share the interchange savings with you. Set it one time then forget it! We will apply your default data, as needed.
Contact us to get set up and start racking up interchange savings.
Enroll in our program today!