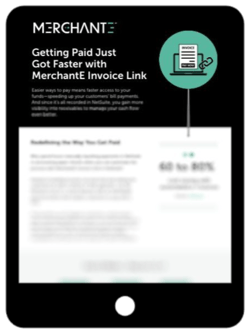 Remove the hassle of spending countless hours on manual entries and paper checks with customer-initiated payments. Not only will you get paid faster, but you'll also gain instant peace of mind when you have improved cash flow.
MerchantE Invoice Link supercharges accounts receivables by simplifying customer payments and recording them automatically on the order–empowering you to grow smarter and faster.
Take a look at our interactive guide to view the advantages of pairing NetSuite and MerchantE Invoice Link.